After three months of having to endure another frustrating prison term in crypto purgatory two important inflection points – both in BTC and ETH – were suddenly breached on Sunday night. As a result over $100 Million worth of over leveraged short positions where effectively taken to the woodshed in one single session. With the momentum effect once again active across the entire crypto market the overarching sentiment among crypto investors and traders has now flipped from FUD back to FOMO.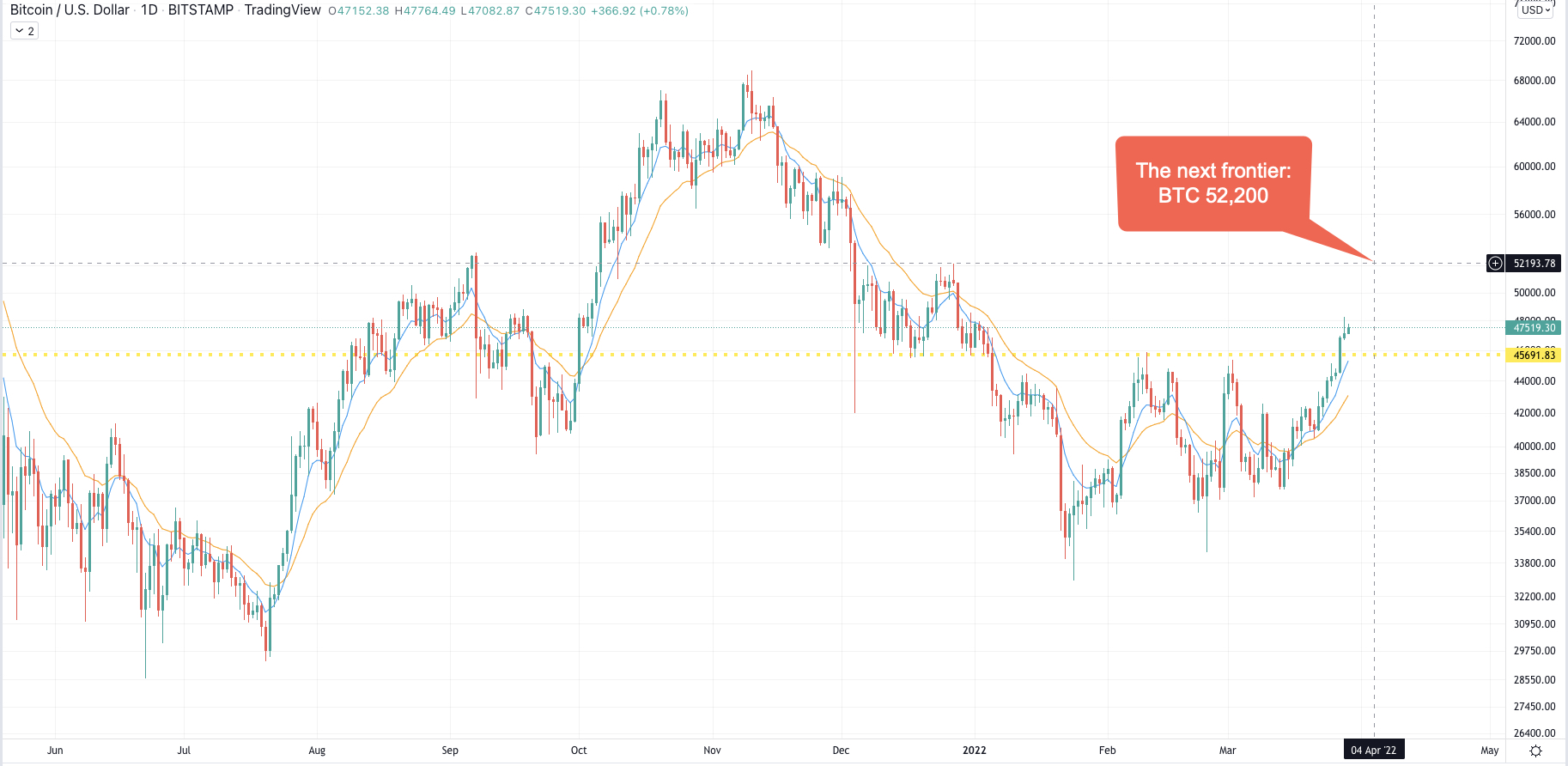 Moving forward: With BTC 45,000 now behind us the preceding sideways range should now be considered an important support zone. I have repeatedly made the point that drawn out corrective phases may be emotionally taxing but over the long term serve as important support zones should an exogenous event trigger a sudden downside response.
The next price frontier now awaits near BTC 52,000. The odds of a b-line advance to that final hurdle are fairly low IMO as a retest of the BTC 45,000 threshold seems to be more plausible once early profit taking has materialized.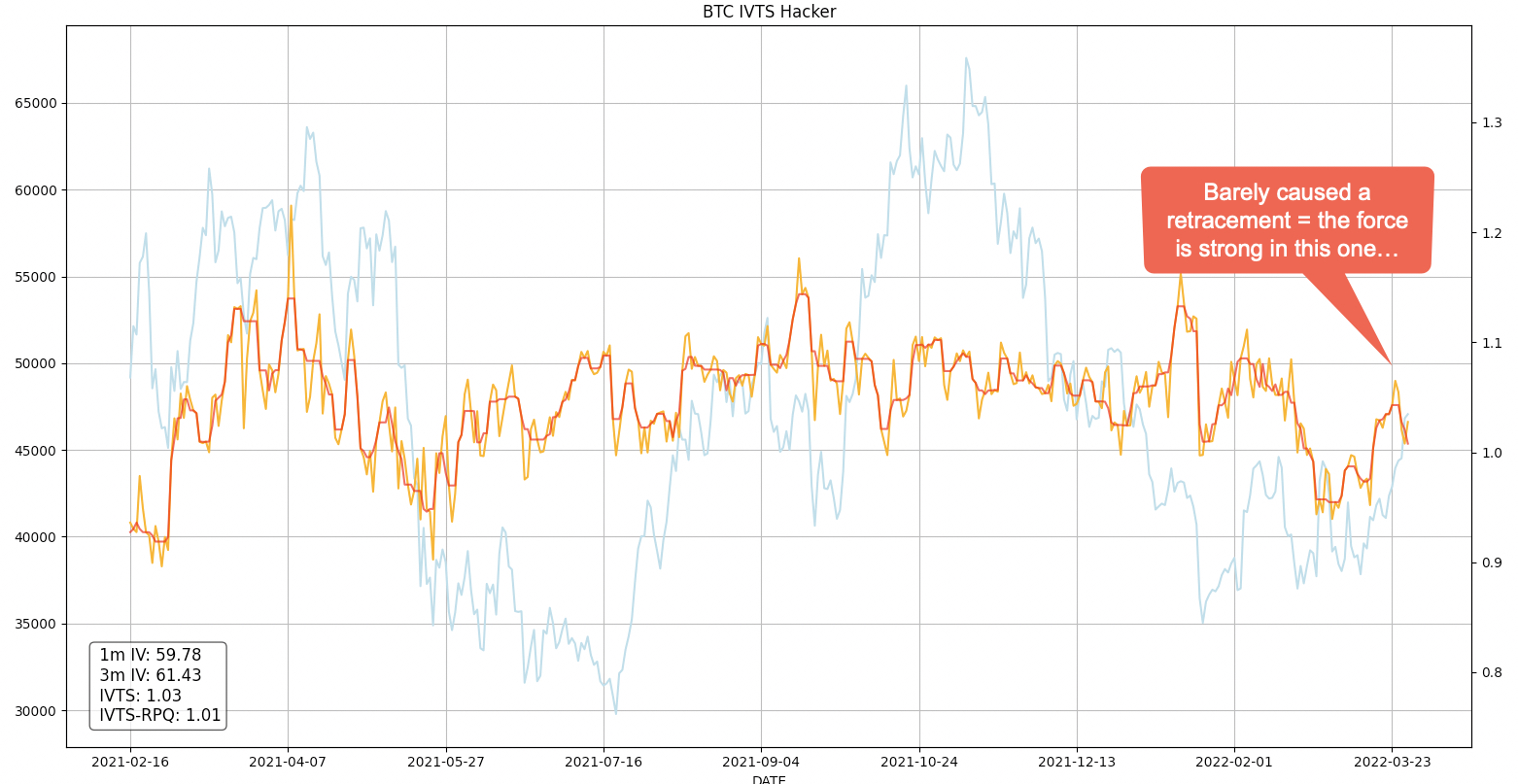 Implied volatility for BTC as expressed by our brand spanking new IVTS (shown inverted to align with the price action) has been very interesting.
Note that there was a marked detachment from the smoothed control line but it barely caused a downside wiggle. It's not an exact science but based on what I have learned from its equivalent on the equities side this suggests upside strength after effectively coiling up in a sideways range for months on end.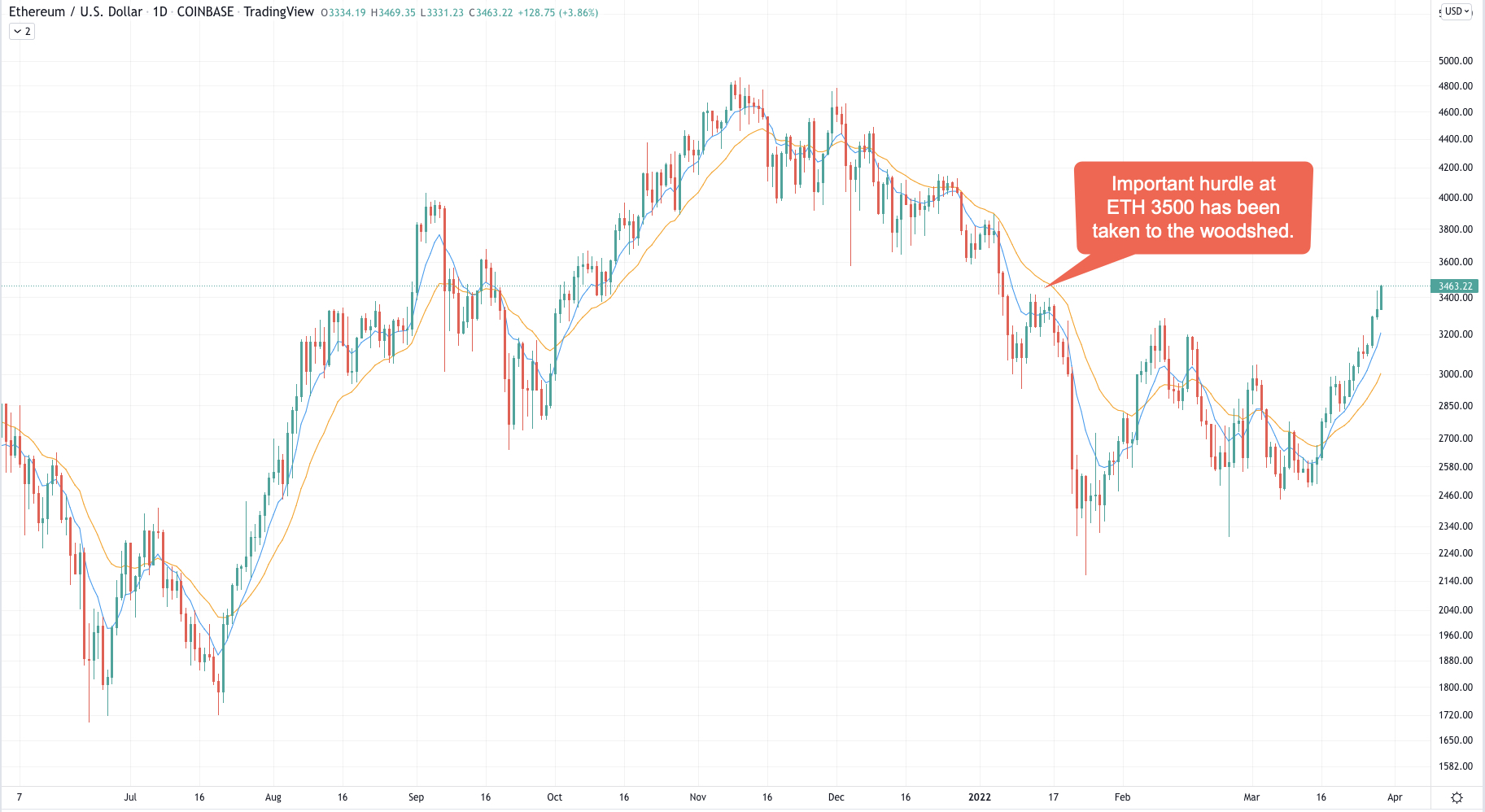 ETH began to lead BTC last week and is now moving so rapidly that I had to renew the snapshots twice during the drafting of this post. Originally I had pointed at ETH 3,500 as the next hurdle but we're almost there now and a breach seems only a matter of time given the strength of the current advance.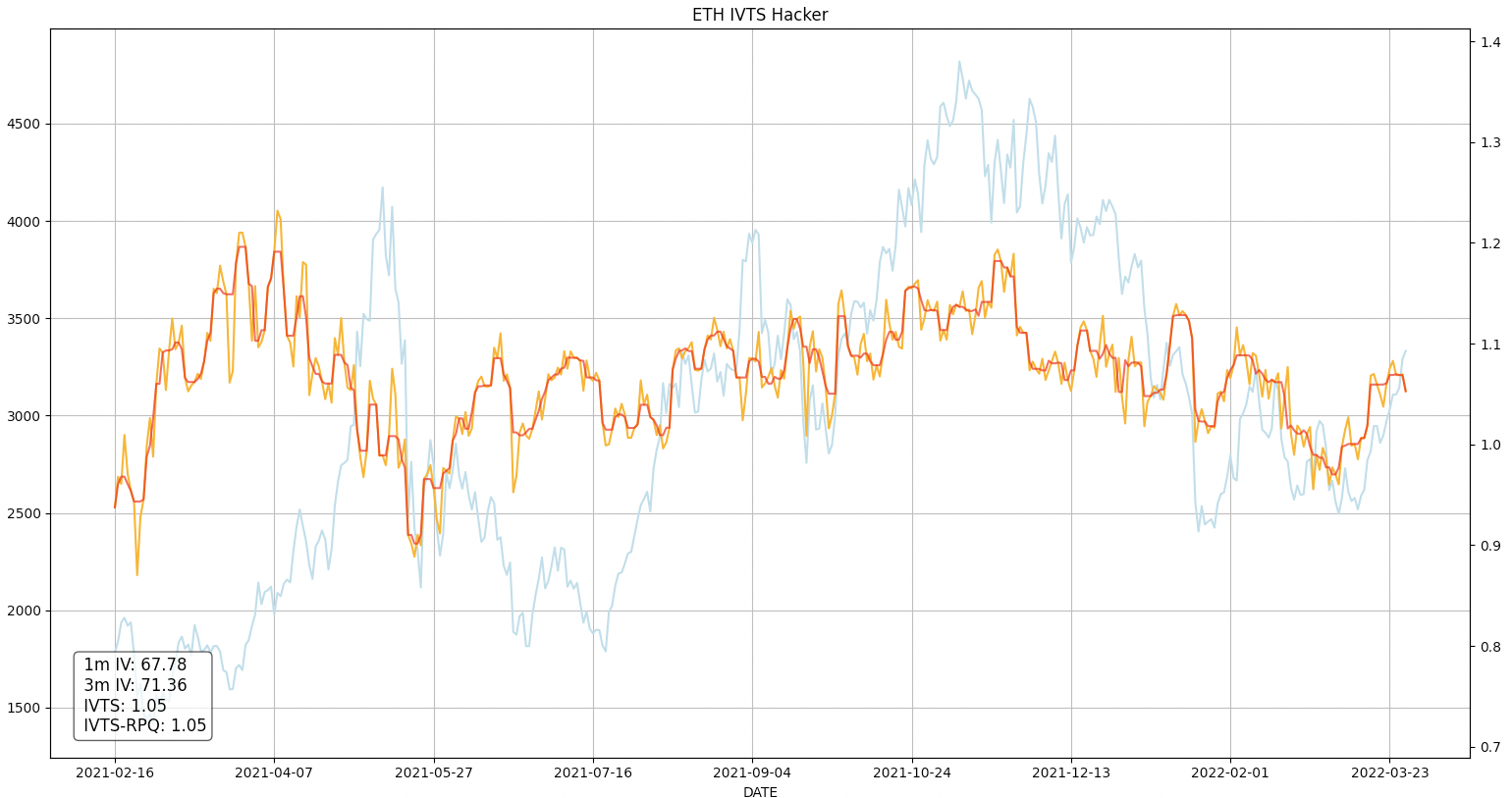 IVTS on ETH also reflecting the vehemence of the current advance but repeated spikes higher also increase the risk of a downside retracement in the new future.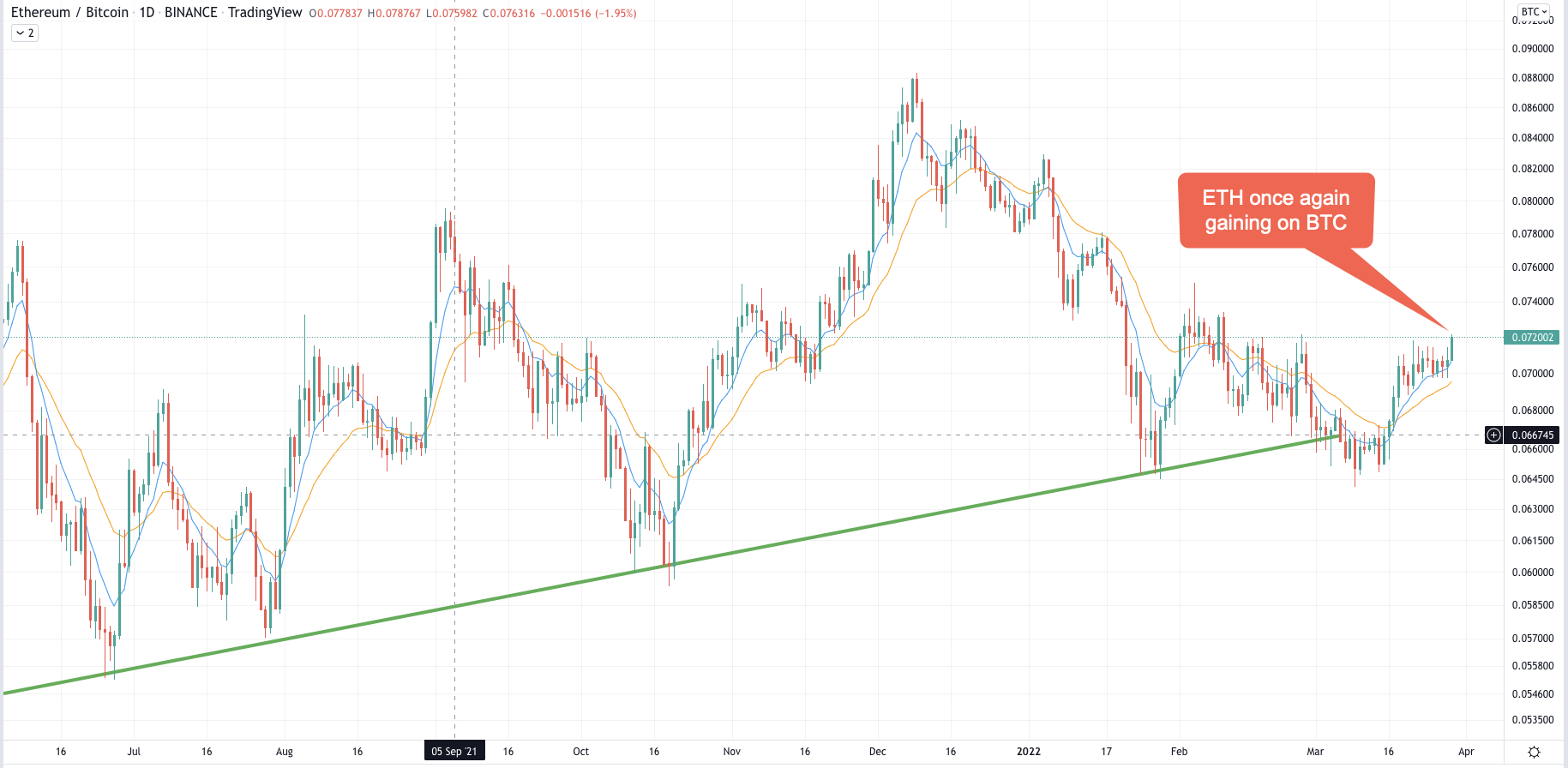 Cryptonaissance (our crypto trading system) has had us in ETH since the 20th of this month which appears to have been perfect timing. If you're not yet a member then I recommend you shoot me an email here at RPQ and we'll see if we can reserve you a seat before the next price increase. Which is overdue as the current system tally currently stands at 11.8 BTC – see the live PnL stats here.
Please log in to your RPQ membership in order to view the rest of this post. Not a member yet? Click here to learn more about how Red Pill Quants can help you advance your trading to the next level.