A day or two ago I was cruising around on reddit as I am subscribed to a few hobby related groups as well as some related to crypto currencies. To be honest I haven't been dabbling much in crypto since early last year but it's always good to keep one's ear to the ground, as they say.
As BTC has been forming a base below the 10k mark over the past month or so I saw a lot of optimism and of course some obligatory high-fiving by the usual HODLers. No surprise there, but what definitely stood out to me was the collective level of incredulity regarding the continued strength of the equities market. Which of course continues to rise higher despite a week of non-stop violent riots all over the United States.
Someone even mentioned that he (or she?) had dumped a ton of stocks when it all began and simply couldn't grasp how markets would continue to stubbornly rise higher with all the smell of 'civil war' hanging in the air. It seems once again a retail rat has stumbled over a valuable life lesson, but most likely will quickly dust itself off, hurry along, and then forget all about it.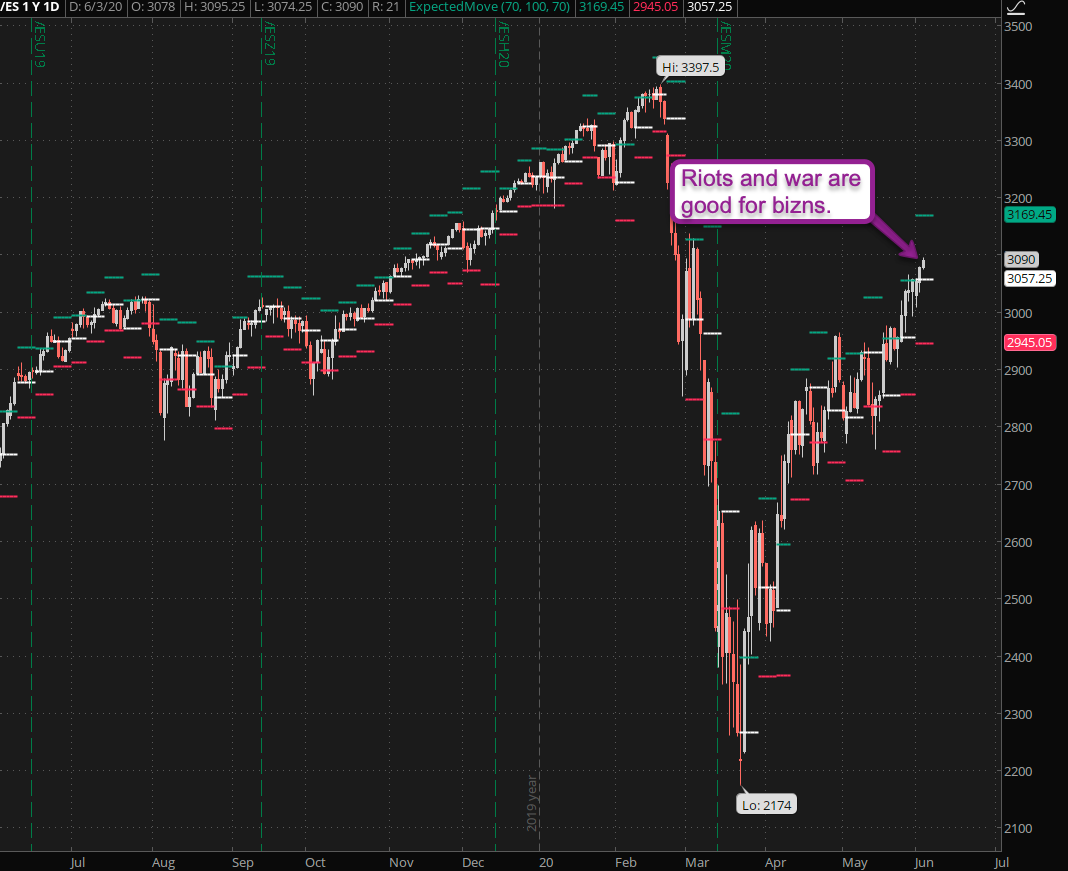 And that lesson of course is: "Buy when there's blood in the streets, even if the blood is your own." Baron Rothschild was spot on and unlike most of us he had the balls to put his money where is mouth was.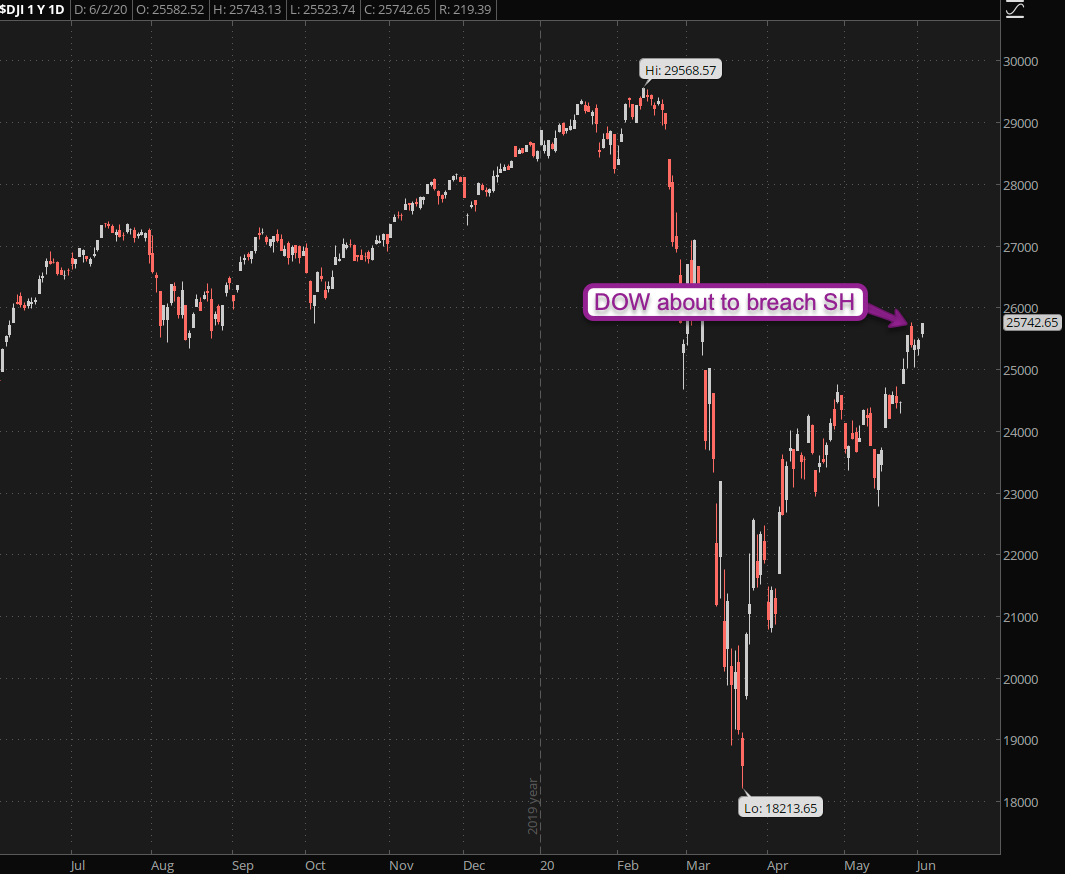 Case in point: Even the Dow is now racing higher while most major American cities burn. This is not a cynical statement mind you, it's simple fact. And therefore all that counts when it comes to trading the financial markets. If you came into this game expecting fairness or justice then boy – are you in the wrong business!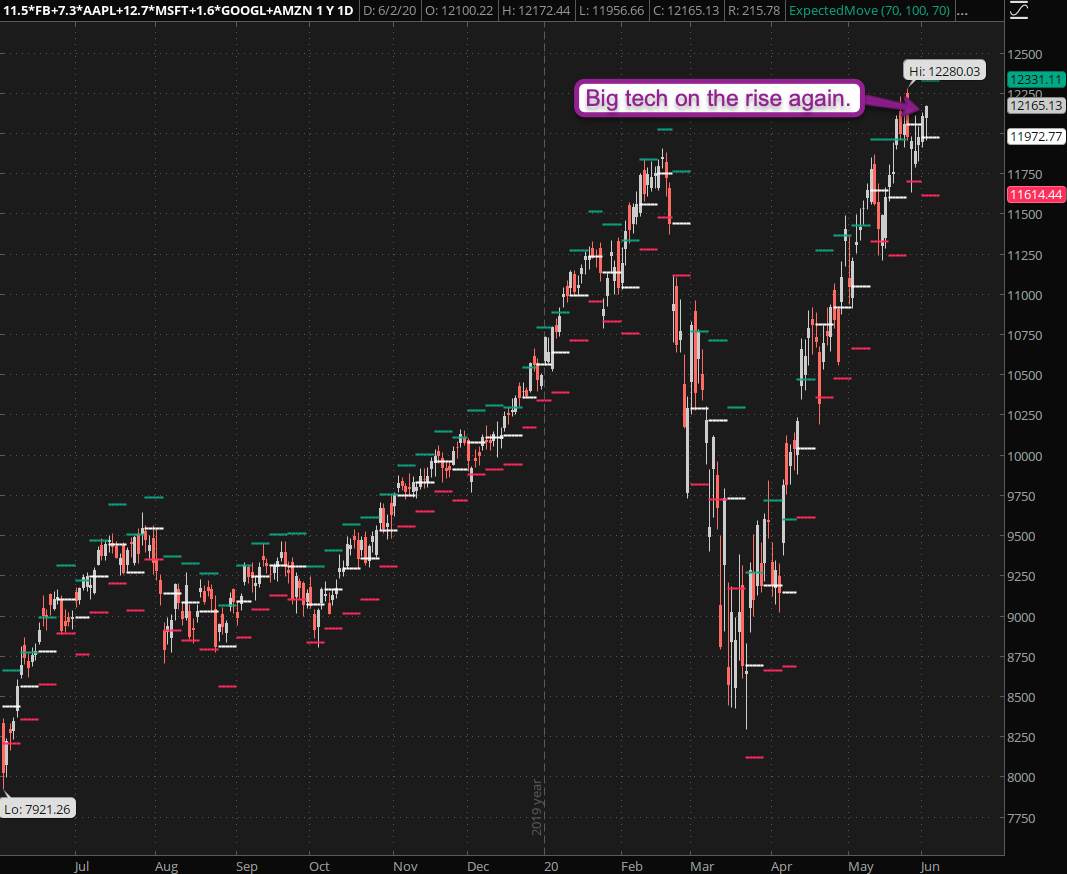 So what's on the menu? Well big tech of course – here's my 'monsters of tech' composite once again on the way to paint new all time highs. Not sure AAPL is enthralled by all it's stores being cleaned out and set on fire but with most city centers turning into no-go zones AMZN and social media continues to rock & roll.
Please log in to your RPQ membership in order to view the rest of this post. Not a member yet? Click here to learn more about how Red Pill Quants can help you advance your trading to the next level.