Crypto suddenly slipped off the plate earlier this week after dancing around the magic $50k mark. Fortunately our system kept us in the strongest altcoins which were the least affected and are already bouncing back strongly. Let's kick things off with a proper post-mortem of what happened and where we're heading next.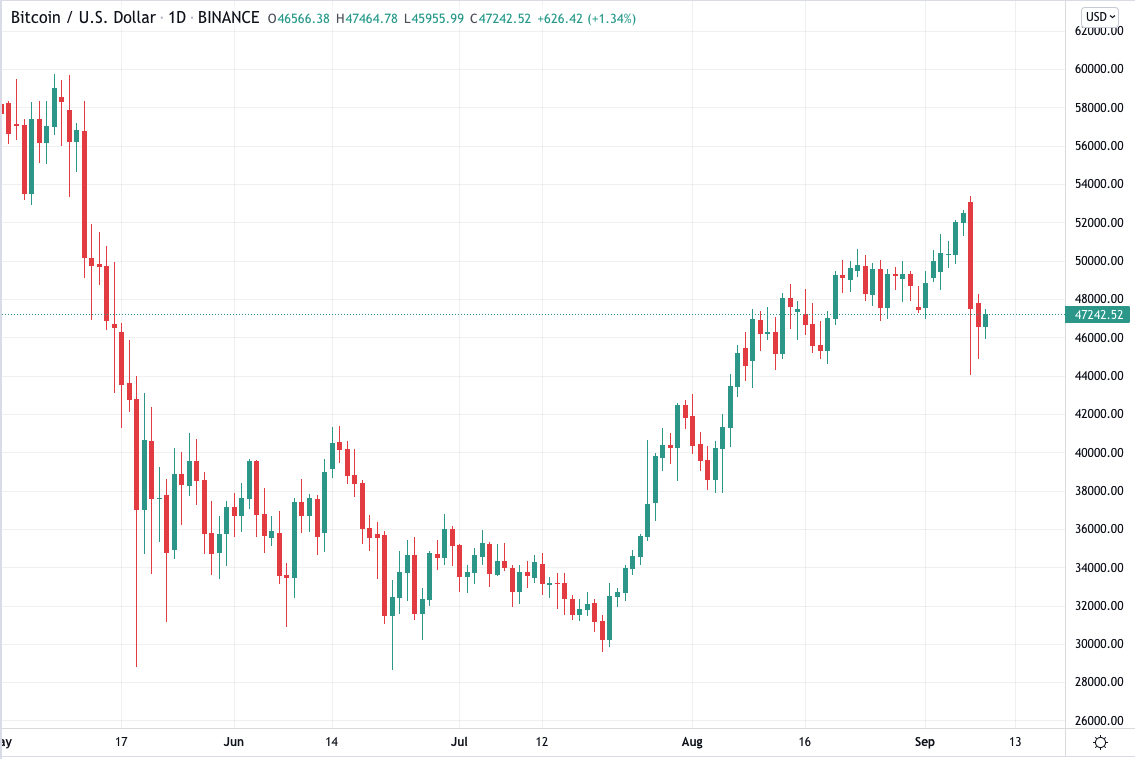 Despite being widely considered the 'gold standard' of the crypto sector BTC has a tendency to move in surges followed by a slow roll into a correction that may last a few days or, just as earlier this summer, several weeks or sometimes months.
Given that the sideways formation that developed since the beginning of September was an early harbinger of an impending pull back.
What nobody probably anticipated however is that all bids would completely disappear and cut BTC down to its 45k mark where it now seems to be stabilizing.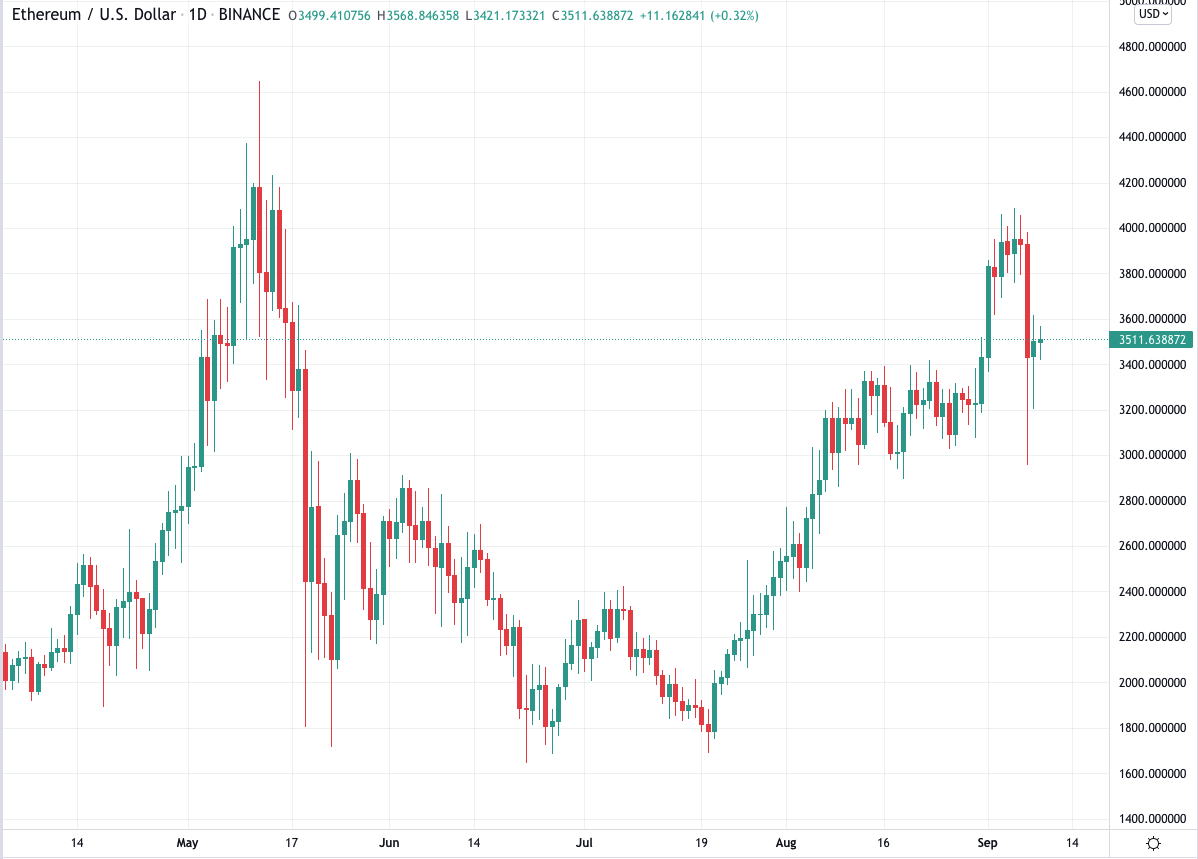 Like a drowning man BTC dragged the rest of the sector with it and even ETH was not spared and gave up a whopping 25%. However here the bounce back was even more pronounced and that giant a$$ wick on the Tuesday candle suggests that we'll see a reversal higher here in a short order.
Giant candles like this are usually how institutional traders pull the rug underneath of hapless retail rats. They look scary AF but they do suggest in most (but of course not all) cases that most of the bearish momentum has played out and that a floor is in place.
There is nothing especially technical or complicated about this at all. Price action like this is squarely based on human psychology plus a laundry list of cognitive biases – some built-in and others acquired since childhood.
Now imagine you are the muppet who just bought BTC at $50k after watching it run higher all the way from $28k over the course of the past month.
You're stuck in the Matrix and therefore believed that BTC at the recent lows was a bad/risky trade but love love love it now at $50k.
How are you going to feel if you suddenly looses nearly 10% in a single day? Not very happy, that's right. You may even be led into throwing in the towel and selling your loot at a low bid to some nefarious vulture waiting on the sidelines.
But let's not make this about me. The point I'm trying to drive home is that sudden wipeouts like this – even during confirmed bear markets – are usually followed by snap backs. The harder the wipeout the faster the bounce that follows it.
If you want to learn more about how to interpret price action without the use of lagging indicators then look no further than my time tested Price Action Masterclass where I cover this topic and a lot more in exhausting detail.
BTW, if you are interested in more than 2 courses email me at admin@ and I'll hook you up with a juicy 30% discount code.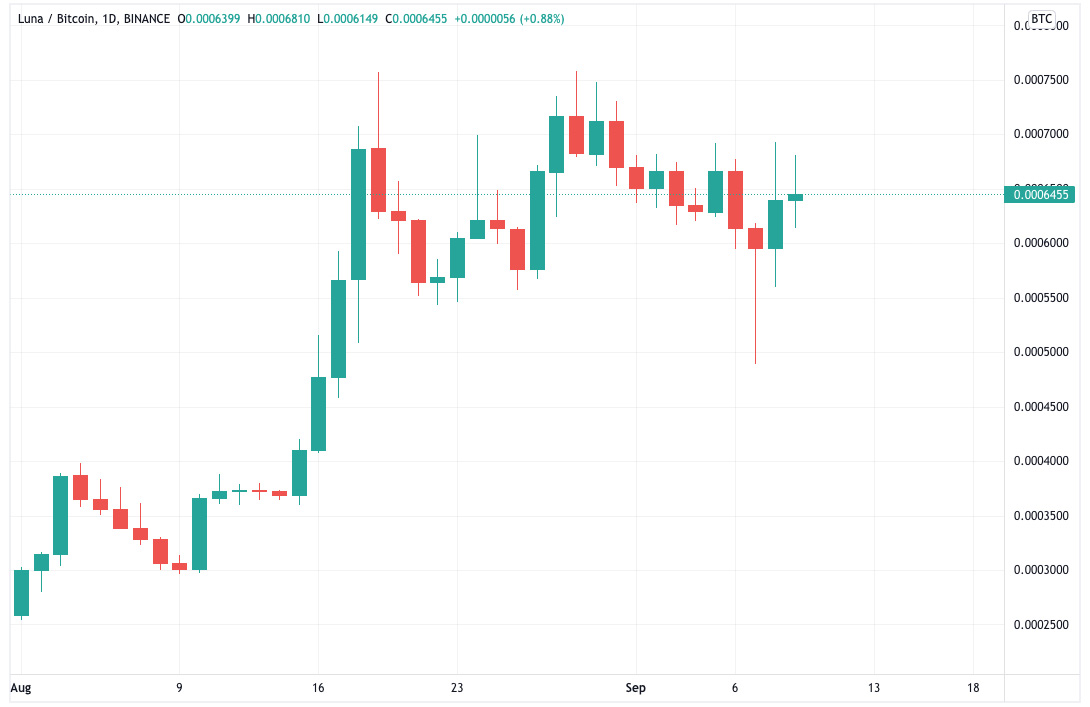 In the intro I mentioned that the altcoins our system took on last Monday were less affected. Here's LUNA which gave up a lot of turf on Tuesday but is already back in its old range.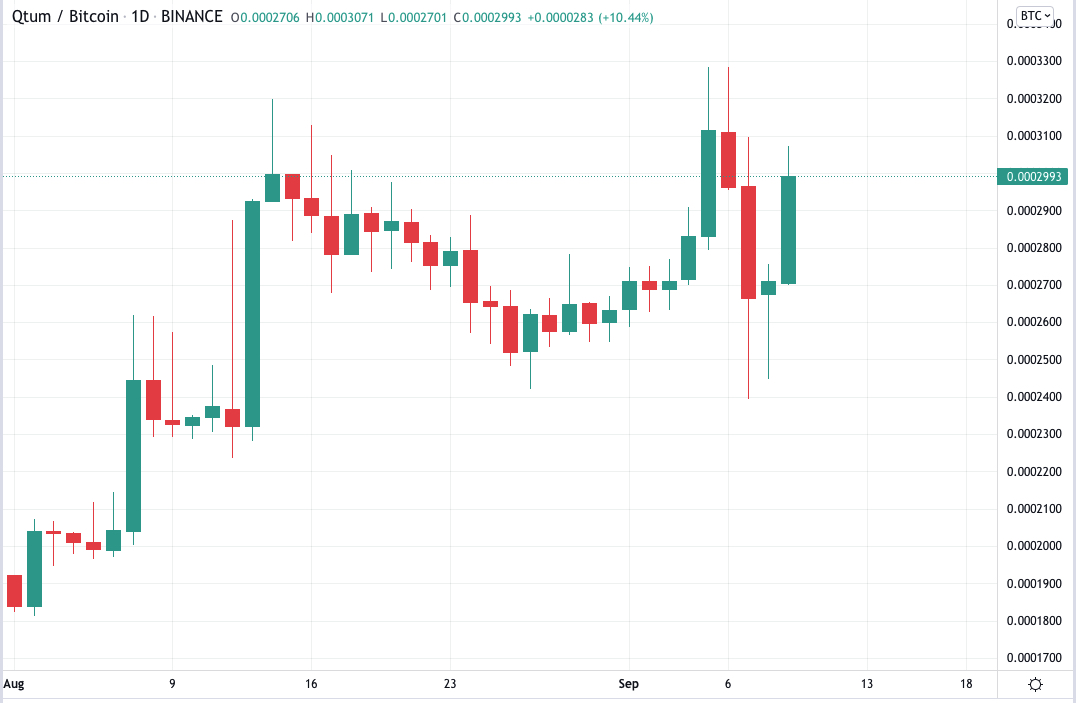 QTUM was hit by Mike Tyson after painting a clear exhaustion candle but once again it's already making a b-line to its former highs.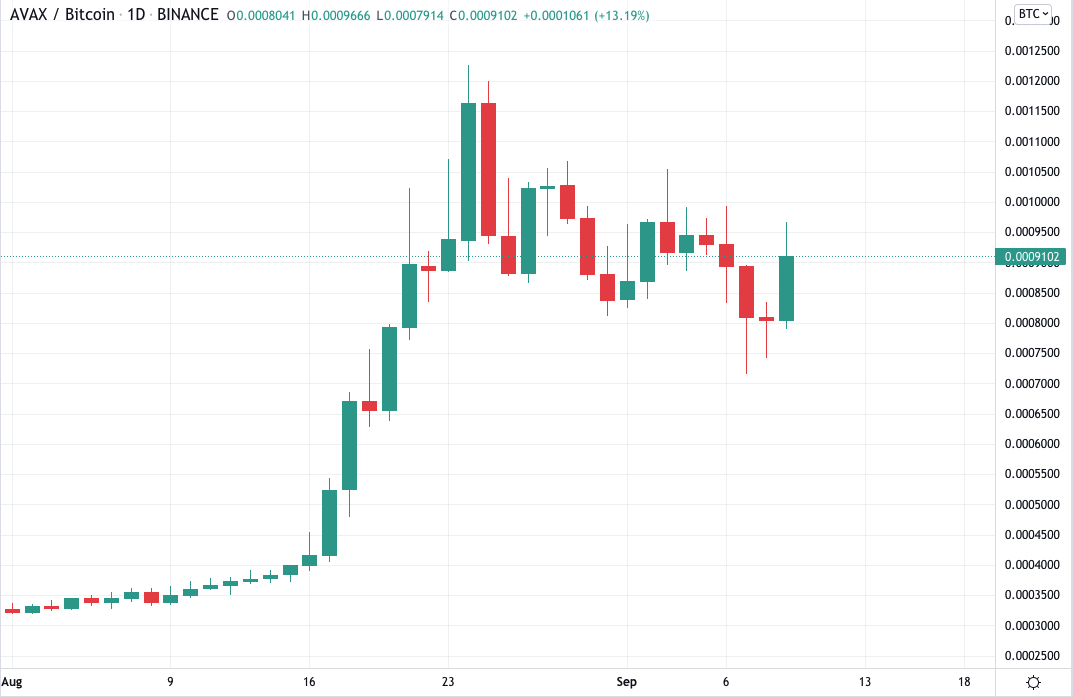 AVAX must have not gotten the memo – what correction?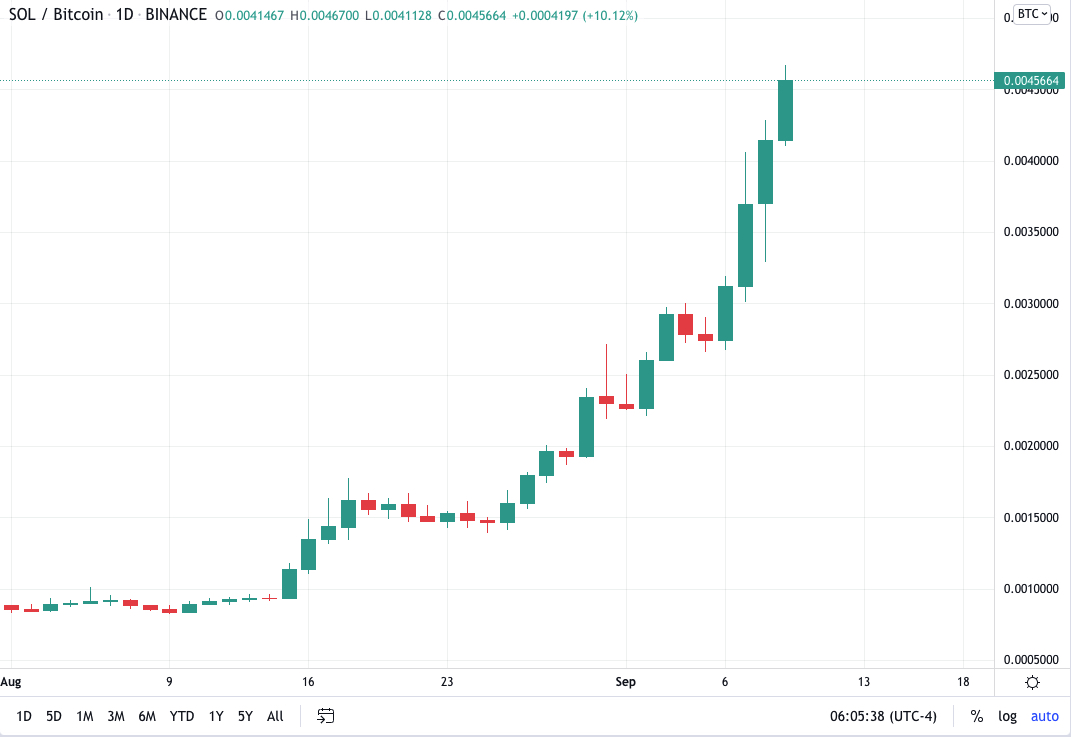 SOL – what can I say… it's shining brightly. Just a beauty to observe. I wish I was holding that one.
Oh wait – I do!! 🙂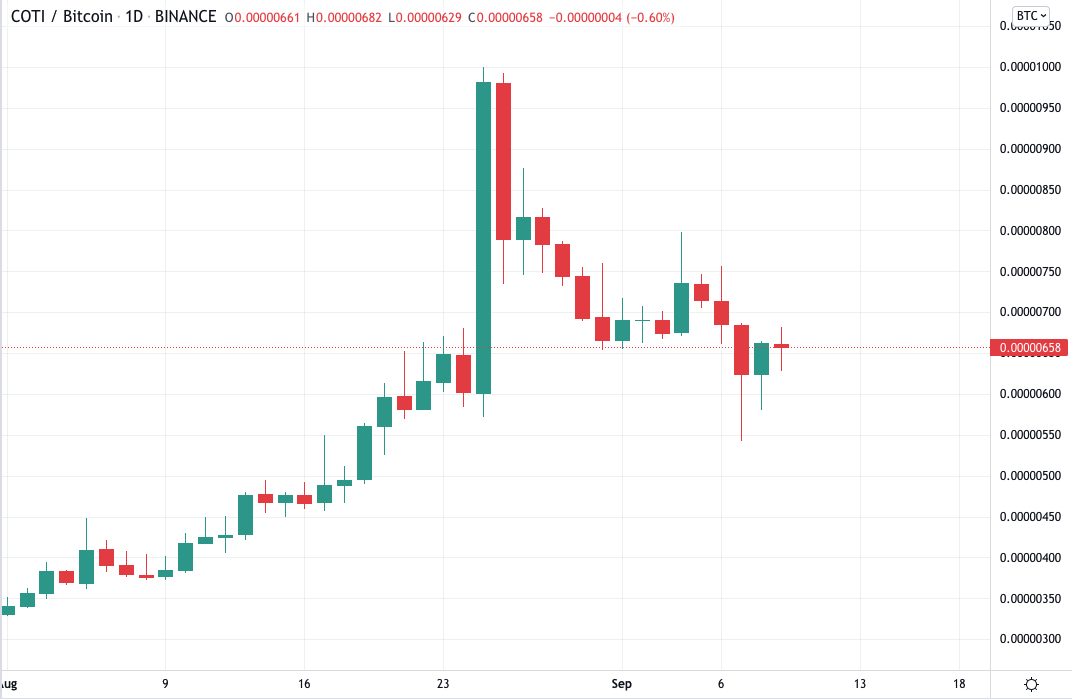 COTI a lot less impressive but those candles near the floor are highly suggestive of a bounce being in the works.
Bottom Line
Once again Cryptonaissance has soften the blow during troubled times giving us renewed confidence that the system is working as expected.
If you're interested in joining – once BTC hit the $50k mark I made 10 more seats available. Grab yours now.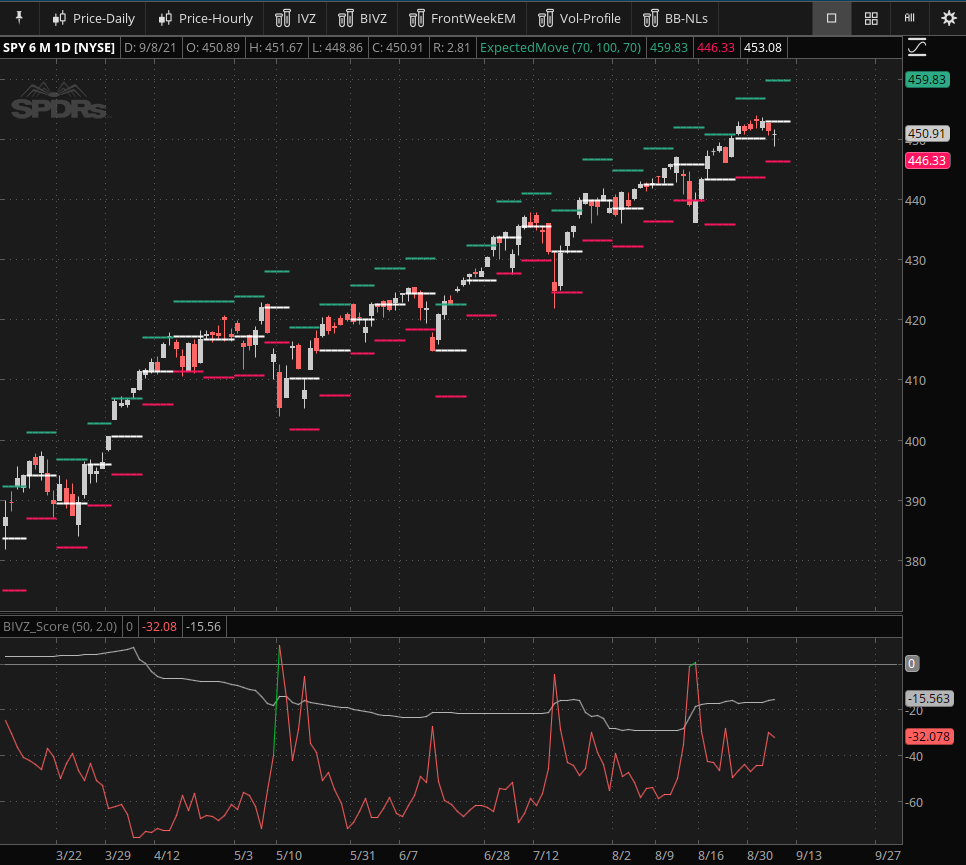 Okay enough with all that new-fangled crypto talk. Let's shift our attention over to stocks. The Spiders have been doing exactly nothing since I headed to the Pyrenees and that's exactly the way I like it.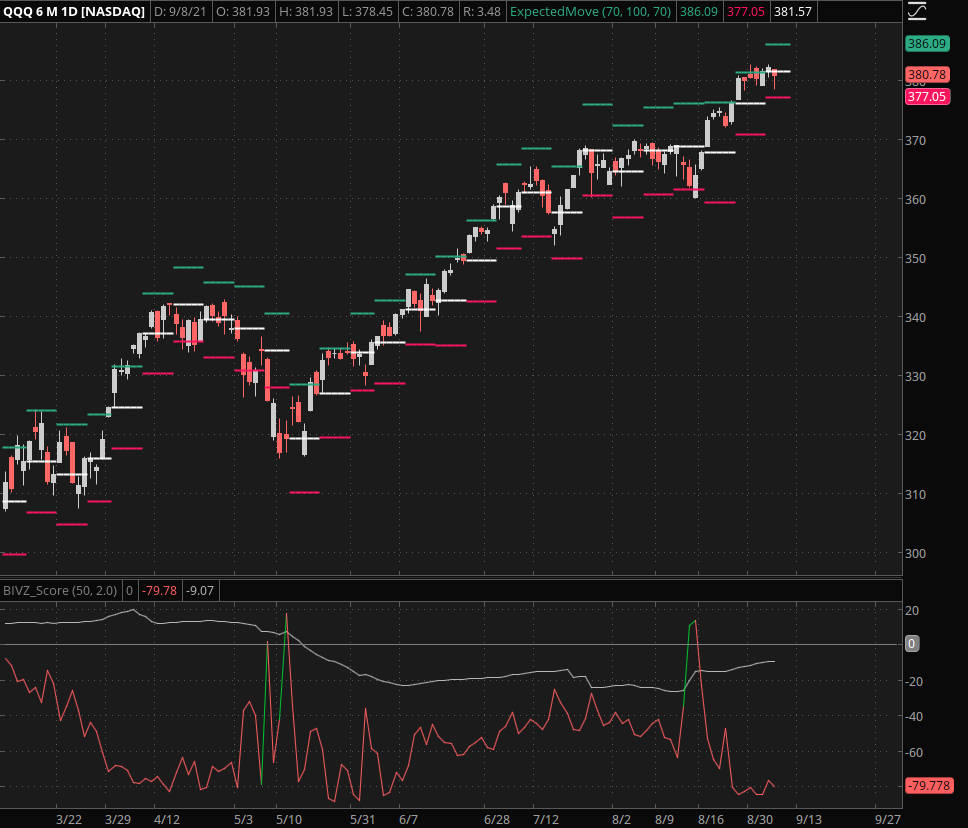 The cubes are completely flat and as you can see implied volatility has taken a tumble. Not as much as it should however and we'll cover that in more detail below the fold.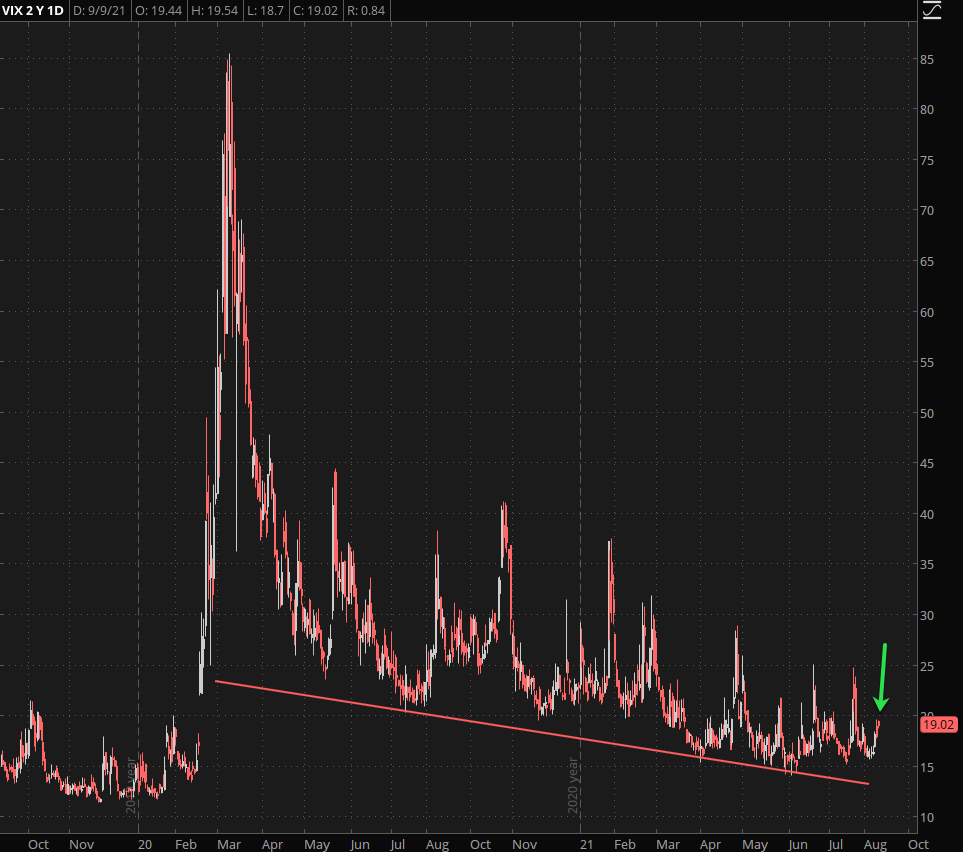 Investors have been bombarded with a veritable firehose of bearish doomsday news all summer and it has produced a marked uptick in the VIX.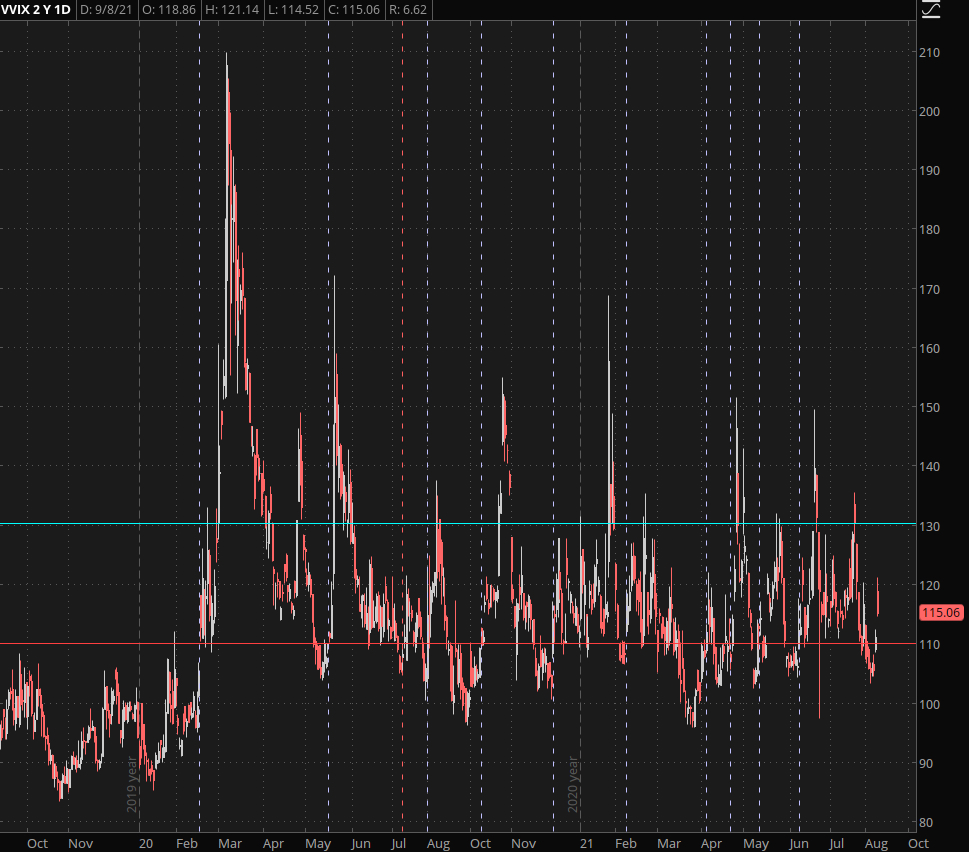 Under normal circumstances a push into the vomma zone (110 and higher) would make me very nervous. But given recent events I have a hard time taking the bait.
Either way – there are plenty of trading opportunities on the map now that summer is (finally) drawing to a close, so let's talk about that:
Please log in to your RPQ membership in order to view the rest of this post. Not a member yet? Click here to learn more about how Red Pill Quants can help you advance your trading to the next level.