Our goal with Foundation is not to teach you useless stuff, it's to grow your trading account. Period.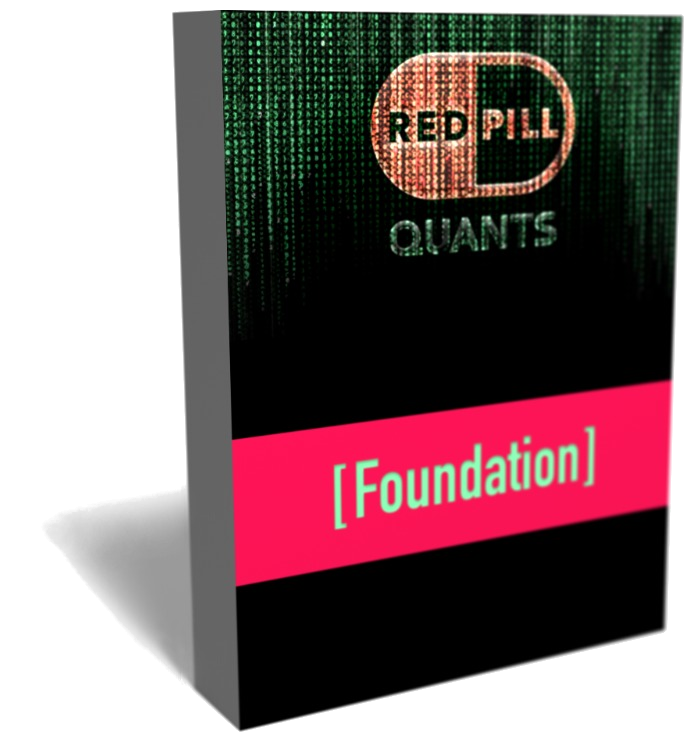 Here's what you get
Access to our live Side Hustle strategy, six quant trades served to you live each week, that we're taking with you.
Over 30 hours of training and growing. We cut out the fat and drill down to the essentials that just work.
Access to our intro Options 101 course, we cut out the fat and get straight to what matters for traders.
The basics of intermediate options trading in our Options 202 course.
The magic of trading based on statistics. This will blow your mind.
Over 10 hours of training on market mechanics – without the indicators. Torch the indicators, for good.
8+ hours of training how to root out the biggest invisible obstacle that keeps most traders stuck (and that the CIA uses in their analysis): cognitive dissonance. This alone will pay for the course, many times over.
Live quantitative market analysis based on probability.
How to figure out when options are priced wrong and how to take massive advantage of it.
Paint-by-numbers application of advanced metrics hedge funds use to know when to get in out of the market. Use our Prophet metric, developed by PhDs at hedge funds, to know when to be in the market. And when not to be!
Complete access to our System Building Masterclass. Once you learn the principles, mastery is when you start putting them together into your own trading that fits you.
How market regimes create massive opportunities for options trades.
Our RPQ Think Or Swim tools, including our Implied Volatility (IV) Z-Score tool and Expected Move tools.

Safe & Secure
Order Form

256-bit
Secure Encryption

PLEASE NOTE: Due to digital assets and a live onboarding process with our member success team being provided, no refunds will be granted on your initial purchase.
Of course, you can cancel any monthly installments, however, that means you'll no longer have ongoing access to whatever program and/or software you were subscribed to.
If you do decide to cancel at any point, you'll continue to enjoy access to your purchase until the end of your current billing period.
Wait…what's the meaning of all this?
Because unlike the dozens of other financial publishers who will promise you instant riches and tease you with visions of "the good life"…
We choose to set realistic expectations about what it takes to achieve real success when it comes to trading.
Remember – "Nothing works unless you do."
Also, if spending $497 is going to cause you financial hardship, please DO NOT enroll in this program.
In addition, if you aren't willing to put in the minimum amount of work required to make this program work for you, please save both of us the time and effort by NOT becoming a member of this fine program…
However, if you're as excited as we are about the prospect of working together to reach your financial goals, and are willing to put in the effort to develop a rock-solid foundation, this program has proven on many occasions to deliver a positive return on investment!
At the end of the day, we're not heartless bastards and understand that if one of our solutions truly isn't a "fit" for what you're looking to accomplish that another one of our solutions MAY BE, therefore, we're always happy to apply your initial payment as a credit towards the purchase of another one of our world class solutions.
What others are saying
The best retail trading site online

The best retail trading site online with an awesome host and unique trading tools to prevent getting raped by Ms. Market.
– Alexandre D. | Verified Buyer
Thanks for putting such a course together.

In summer I like to spend some time sharpening my trading abilities reviewing lessons learned and reading books on trading. Most of the books and training material that I reviewed over the years is junk and some was quite expensive.
This summer I bought Price Action Masterclass, Trading Psychology Class and System Building Masterclass and it is outstanding in scope and a great value. It really covered more than I expected in terms of understanding price which is the queen of indicators, an outstanding review of trading psychology and what it takes to put a trading system together.
The novice could miss the importance of price and the proper analysis of price for entry/exit of a position. When I started down this road, I would have missed it and wanted some setups AB=CD, the good old Three-Drive, Gartley and harmonics. When you understand how to analyze price, you will see where one of these setups is going to fail gloriously.
– Herb S. | Verified Buyer
Many core concepts you will need to master.

I completed the System Building Masterclass from Red Pill Quant and enjoyed to course very much. It covers many core concepts you will need to master in your journey to become a profitable quant trader. I believe the course will be helpful whether you are new to the field or if you already have some knowledge about system development. I personally particularly enjoyed the part around edge discovery, the suggested approach was new to me and make a lot of sense, I have since implemented it into my own system development process. Thanks a lot Mole for putting that high quality content together!
– Paul N. | Verified Buyer
Frequently Asked Questions